It is finally late fall. Thanksgiving is this week, and there is a lot to be thankful for in the fashion world. We start to see an array of vibrant colors taking over wardrobes as we see vivid reds and deep browns coming to life. We also see fabrics such as tweed, corduroy, and velvet taking center stage. Preps thrive during this time of the year, because we can finally take our classic and basic wardrobes and with an introduction to a subtle wow factor, can make a simple outfit stand out in an envious way.
During this time of the year, I find myself retracing my steps to my childhood days of dress-up. However now, I know the ins and outs of the fashion world. For example, Friday, I was feeling girly. This caused me to pair up a tweed grey mini skirt, a red Tommy Hilfiger cardigan, matching red tights, and basic black oxford heels, with the season's fashionable cashmere Burberry scarf. The scarf gave the classic look something that stood out.
Today, I woke up to blue open skies. This inspired me to add a little twang to my outfit, so I paired a navy and red plaid flannel button down with a navy boyfriend blazer, camel colored corduroy pants, and dark brown knee high leather boots. Prep with a Country twist!
As I have mentioned before, I do some part-time modeling to compliment being a college student. This summer a great photographer and friend of mine, did a few girlfriends and I the favor of shooting a country themed photo shoot on a local farm. A few of the pictures from the shoot are below as inspiration: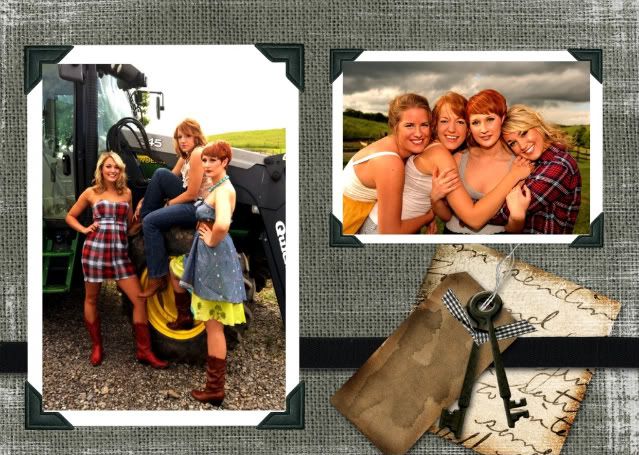 Photographer: David Lloyd
Models: (left to right in horizontal picture) Allison, Amy, Kerry, and Kalyn (me)
Below is a Country Themed Polyvore that I created with the help of Tommy Hilfiger's Fall 2010 Collection. One of my favorite pieces from it are the Duck Boots. Growing up they were popular, and I am thrilled that Tommy has brought them back (with heels). I have a pair of Duck Boot rain skimmers from this collection, and not only are they fashionable, but extremely practical. They are rainproof and have great traction, and as a college student, those are key ingredients when looking for shoes!
I greatly encourage you to play up your classic looks with a small accessory or fabric alteration. My promise is that you will find an abundance of approval...especially in the college aged fashion world.
XOXO
~Kalyn