It's Friday night. 11:00PM. I am a college junior. What is wrong with this picture?
(My parents would say nothing, but I beg to differ)
After spending 14 hours mainly at my college's library today, I am hoping that my knowledge in Calculus III is that of Reimann or Newton's. However, because I now am still bursting with energy, I feel I should indulge in something that has made my day spent in captivity a little bit brighter.
In earlier posts, you can clearly see my love of Tommy Hilfiger. In his Fall 2010 (Ready To Wear) Collection, we saw Tommy spice up his merry-go-round of what defines a classic wardrobe with the perfect mix of old and new variety. For example, the traditional Duck Boots, greatly overused in the 90's, are making a huge comeback thanks to Tommy. He has made these classic and practical shoes legendary by adding a sassy heel to them:
Tommy has once again switched up and mixed up the traditional preppy wardrobe to make his Spring 2011 (Ready To Wear) Collection his best yet. The heel added to the Duck Boot for fall has now changed into a coveted Sperry Top-sider Wedge.
We see the men bringing back edgier colors with Madras ties and colorful socks (and pants...but you will soon see, that has been popular for quite a while). Baby blues and pinks are brought back, as well as chunky blazers (SEERSUCKER!) paired with rolling the hems of those chinos.
For the ladies we see traditional fabrics such as khaki used in ways that are most unexpected. We see double breasted blazers paired with bathing suit tops and a skirt. Classic and sensible meets a tinge of sexy. This truly is eye opening to the prep world. What does Tommy call this collection? "Twisted Country Club"
I am in love....
So, being the Tommy fiend I am, I was browsing through my personal pictures yesterday, and came across a few that had wardrobes similar to that of Tommy's Spring 2011 Collection...let me share!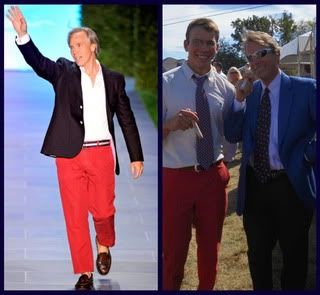 Tommy Hilfiger himself looking dashingly similar to the two gentlemen whom I love with all my heart, my boyfriend and daddy. (Polo for The Cure 2010~Leukemia)
Spring 2011 collection compared to my simple button down oxford dress. Differences? The wedged Sperry Top-Siders!
So as I listen to the sound of my space heater at my feet, and the wind outside, I find great hope in a colorfully unique spring, that screams "bring the classics back" in a twisted new way!
Tomorrow is Navy v. Army in Football. BEAT ARMY!