You know it's Monday, when you walk outside to your 8am class, and it is -3 degrees outside. You also can verify it is Monday, when you have a pop quiz in your 8am class, and upon completion, you walk outside and fall on a big chunk of ice. Your butt gets nice and wet, and your books scatter across walkway. Once you pick everything up, you are late for your next class. Oh Monday blues.
Some days you can't avoid all the mishaps, yet today, my spirits are still high. Maybe I am in a good mood thanks to the Steeler's win last night, or from the weekend I got to spend with boyfriend. Or could it be the fact that I am the happiest girl in the entire world? (I am so mushy).
I know my car ride home helped as I screeched along to Miley Cyrus' song, "He Could Be The One" (no shame). As well as the random texting conversation I have had with Pat all day that ranged from
frozen boogers
to "I love yous".
Regardless. It's been a pretty dandy Monday all facts considered. Oh, and did I mention I was looking fly today? Yeah, I said it. I looked good. Okay, before you get defensive. I'm not calling myself "America's Next Top Model" here, I'm just saying that my outfit was very inspirational to Fall 2010 fashion guides.
Especially in the prep world. Here we go again...
Who is my favorite designer ever ever ever?
Tommy Hilfiger
What am I currently obsessed with?
His Fall 2010 and Spring 2011 Ready To Wear Collections
and his Fall 2010 ad campaign. If you want to see the extent of my obsession, please read
this
or if you want to see his Spring 2011 collection, read
this
. My blog is already full of Tommy.
(Photo credits: Tommy Hilfiger Fall 2010 Ad Campaign)
(Love the station wagon)
Today, my outfit was inspired by his Fall 2010 ad campaign. In the campaign, we see a lot of navy and reds. For material, we find corduroys and wools. Trendy pieces like boyfriend blazers, heeled duck boots, and over sized shades all represent the traditional preppy wardrobe with a modern switch.
So today, I took full advantage of my closet's resources and came up with an outfit that is somewhat comparable.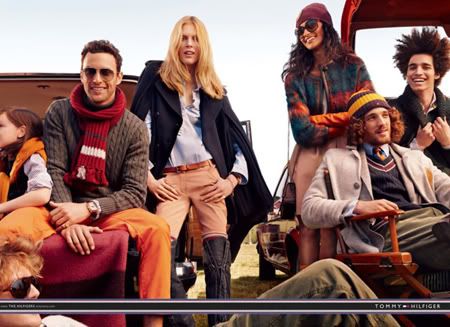 (Photo credits: Tommy Hilfiger Fall 2010 Ad Campaign)
Compare the picture above from Fall 2010 Tommy Hilfiger Ads to my outfit below.
I wore:
Plaid Flannel Button Down Shirt: American Eagle Outfitters
Navy Boyfriend Blazer: Ann Taylor Loft
Camel Colored Corduroy Pants: Tommy Hilfiger
Leather Knee-High Boots: Steve Madden
Studded Pearl Earrings
And just because I thought it would be funny, I must add this addition picture...
(Photo credits: Tommy Hilfiger Fall 2010 Ad Campaign)
Max and I wanted to copy this look with the dogs in it.
Don't you think we would be great prospects for Tommy's next ad campaign?
So there you have it, my obsession with Tommy Hilfiger leaks out again. Hope you all are having just as great a Monday as me, and let me know what you think about my comparisons!
________________________________________________________________________________
Today I am thankful for my Midshipman, for humor that makes Mondays manageable, and for my puppy, Sir Maxwell Smart.